Every few years I like to build something
I
want to make. I have had this set of koa since the 1998 GAL convention, the only one I've been to, where I remember Eugene Clark giving a talk on French Polishing and how he likes to scratch up the surface across the grain before starting to polish, but that's an aside.
I thought I would share with the forum some of my process. Nothing proprietary here, just straightforward intuitive/anecdotal guitar making. I'll update the thread with new photos when time allows.
The koa has some nice, deep curl and a set of sides off the same board. The spruce is bear claw Englemann I bought from Larry Stamm.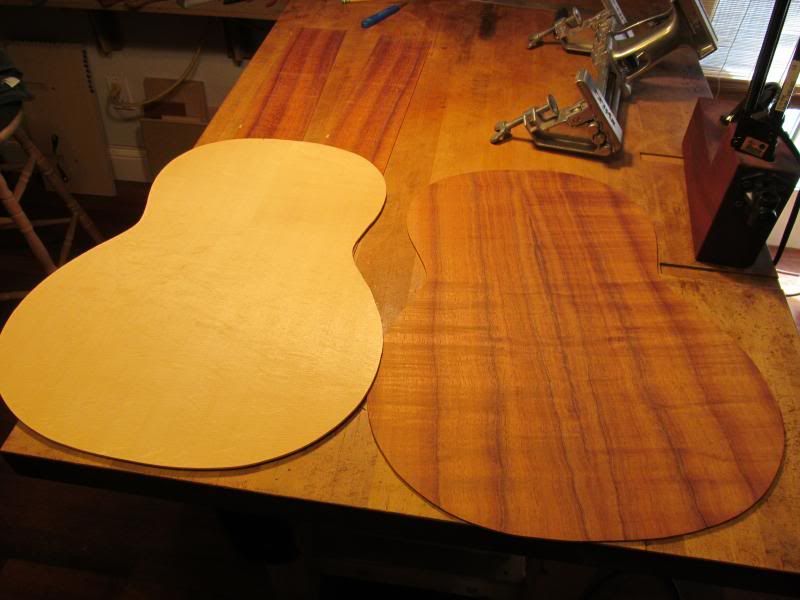 Here are the back and sides with some alcohol to show the color. I love koa-it's kind of open pored but bends really easily and scrapes to a beautiful sheen.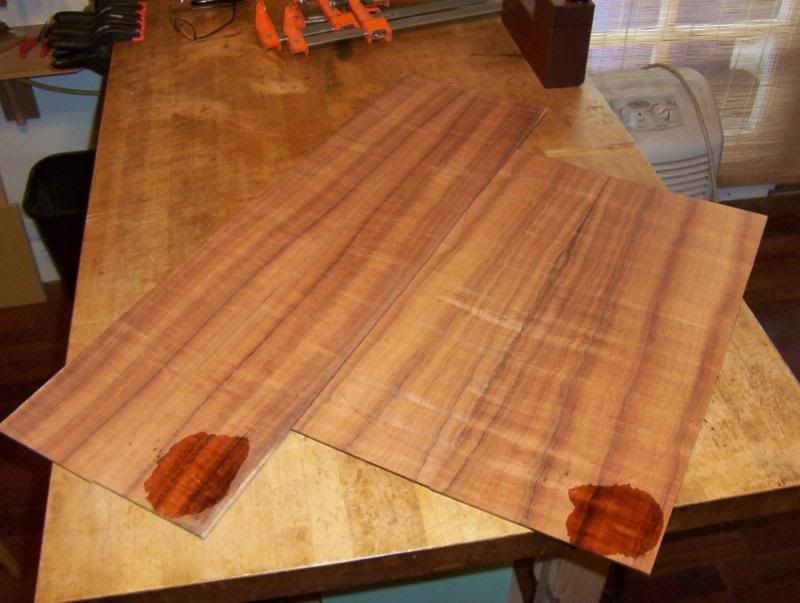 The top is loaded with bearclaw and was not easy to plane. Each claw is like end grain so a bit steeper angle on the plane and a skew cut is definitely required.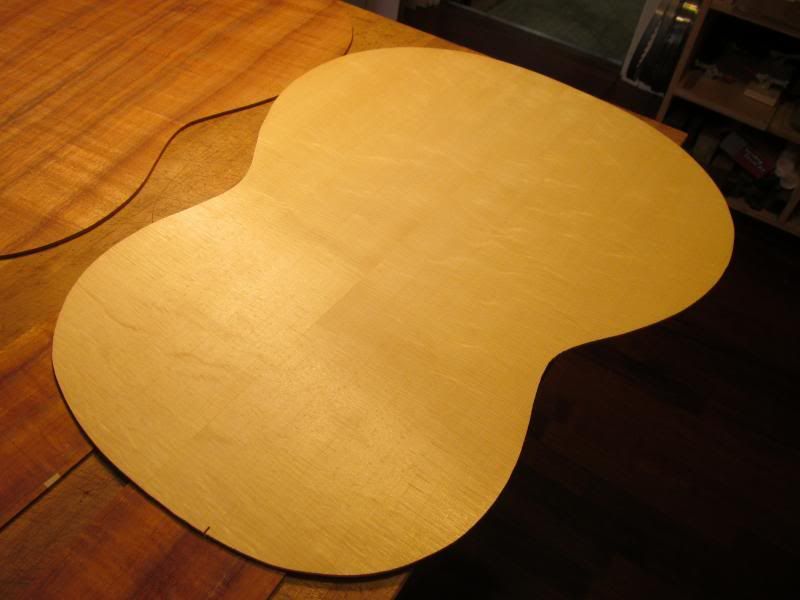 One side bent and in the mold, and the other wet and ready to bend.
I decided to laminate the sides, and left both the koa and the cypress pretty much full thickness, so the sides are about 4.5mm thick.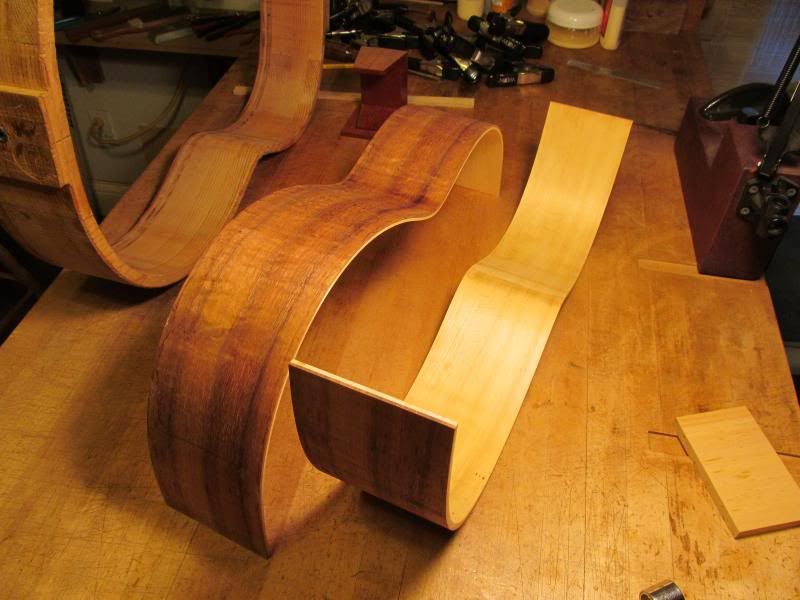 This is my setup for gluing the blocks. The neck block has a few coats of shellac on it, and is cedro. The tail block is Port Orford cedar.
The rim with blocks ready for linings. At this point the edge of the sides has been profiled to receive the back, and the foot has been rough shaped.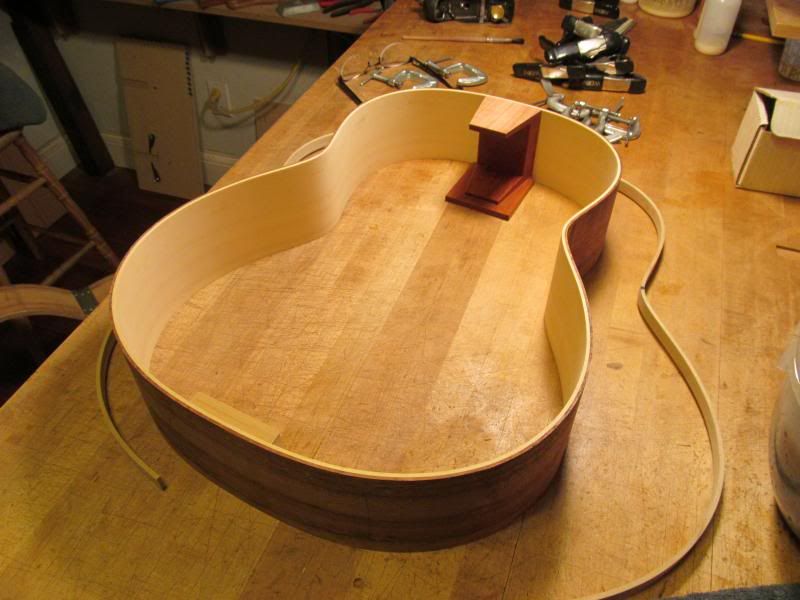 Back linings being glued. I use poplar these days-inexpensive, available, bends easily. I use solid linings for both back and top.
The body with linings. Next thing is to plane the linings to the contour of the edges and refine the edge that receives the back.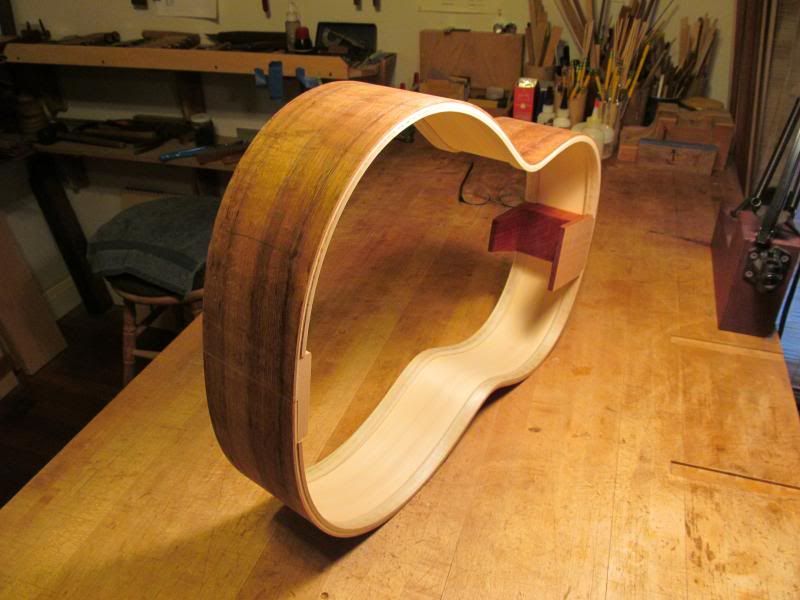 This shot shows the neck block with its pad that increases the support under the fingerboard. You can also see how wide the combination of double sides and linings ended up.